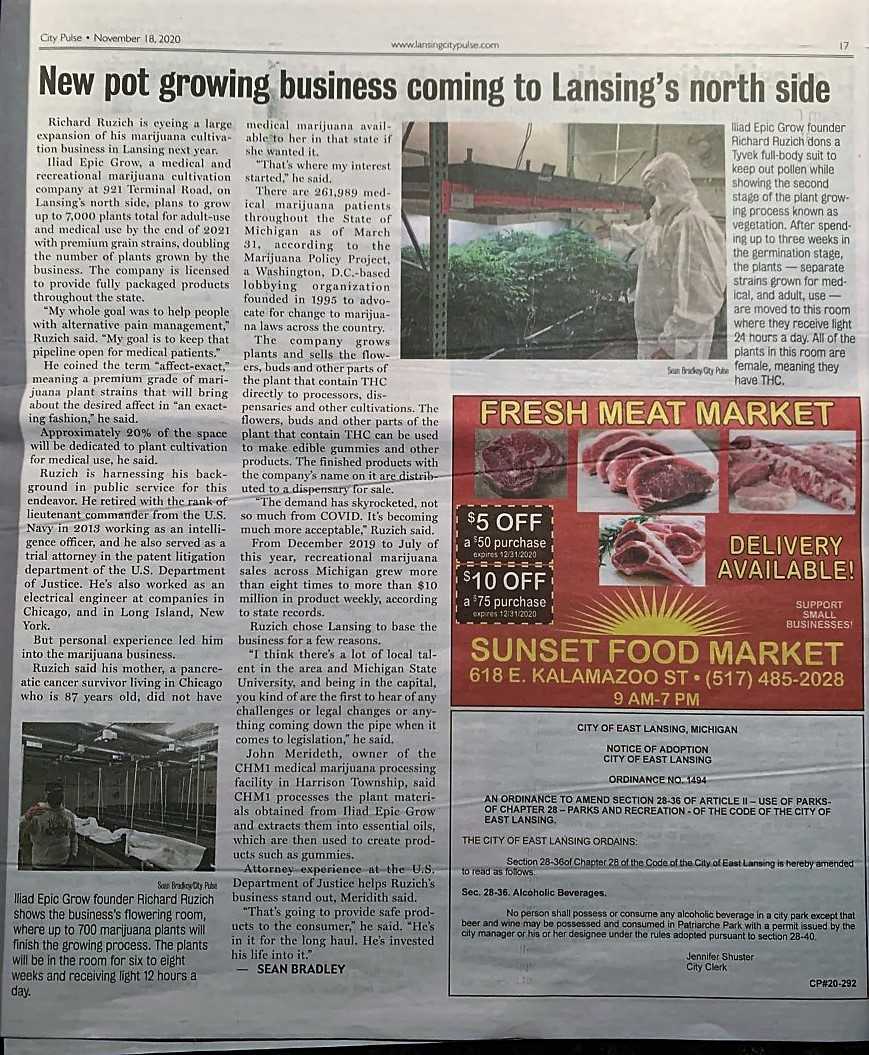 This article was originally posted here.
Richard Ruzich is eyeing a large expansion of his marijuana cultivation business in Lansing next year.
Iliad Epic Grow, a medical and recreational marijuana cultivation company at 921 Terminal Road, on Lansing's north side, plans to grow up to 7,000 plants total for adult-use and medical use by the end of 2021 with premium grain strains, doubling the number of plants currently grown by the business. The company is licensed to provide fully packaged products throughout the state.
"My whole goal was to help people with alternative pain management," Ruzich said Tuesday. "My goal is to keep that pipeline open for medical patients."
He coined the term "affect-exact," meaning a premium grade of marijuana plant strains that will bring about the desired affect in "an exacting fashion," he said.
Approximately 20% of the space will be dedicated to plant cultivation for medical use, he said.
Ruzich is harnessing his background in public service for this endeavor. He retired with the rank of lieutenant commander from the U.S. Navy in 2013 working as an intelligence officer, and he also served as a trial attorney in the patent litigation department of the U.S. Department of Justice. He's also worked as an electrical engineer at companies in Chicago, and in Long Island, New York.
But personal experience led him into the marijuana business.
Ruzich said his mother, a pancreatic cancer survivor living in Chicago who is 87 years old, did not have medical marijuana available to her in that state if she wanted it.
"That's where my interest started," he said.
There are 261,989 medical marijuana patients throughout the State of Michigan as of March 31, according to the Marijuana Policy Project, a Washington, D.C.-based lobbying organization founded in 1995 to advocate for change to marijuana laws across the country.
The company grows plants and sells the flowers, buds and other parts of the plant that contain THC directly to processors, dispensaries and other cultivations. The flowers, buds and other parts of the plant that contain THC can be used to make edible gummies and other products. The finished products with the company's name on it are distributed to a dispensary for sale.
"The demand has skyrocketed, not so much from COVID. It's becoming much more acceptable," Ruzich said.
From December 2019 to July of this year, recreational marijuana sales across Michigan grew more than eight times, and sold more than $10 million in product weekly, according to state records.
Ruzich chose Lansing to base the business for a few reasons.
"I think there's a lot of local talent in the area and Michigan State University, and being in the capital, you kind of are the first to hear of any challenges or legal changes or anything coming down the pipe when it comes to legislation," he said.
John Merideth, owner of the CHM1 medical marijuana processing facility in Harrison Township, said CHM1 processes the plant materials obtained from Iliad Epic Grow and extracts them into essential oils, which are then used to create products such as gummies.
Attorney experience at the U.S. Department of Justice helps Ruzich's business stand out, Meridith said.
"That's going to provide safe products to the consumer," he said. "He's in it for the long haul. He's invested his life into it."
---
For more information…
At Iliad Epic Grow, We enjoy keeping enthusiasts, vendors, and community members informed about our work in the cannabis industry.
Please feel free to contact us at info@iliadgrow.com with any questions, concerns, or suggestions.